East Lake Library Reopens Its Doors
Nearly a year ago, our community was engulfed in cries for justice after the death of George Floyd, heartbroken at the inequities and racism that led to this moment … feeling the pain of seeing our library building and books damaged. And then, generosity and kindness stepped in. Thousands of library Friends from around the world provided critical funding as we took those first steps toward recovery. Today, East Lake Library stands restored and open to serve. Its vital presence, serving the East Lake community for nearly one hundred years, continues to bring joy to patrons!
The library's vital presence, serving the East Lake community for nearly one hundred years, continues to bring joy to patrons!
The Library Remains Present during Difficult Times
Even while closed for restoration, East Lake Library remained present in the community, reaching directly into the most affected neighborhoods to deliver resources and hope to those facing much uncertainty. Each week, library staff operated from the parking lot of the neighboring Holy Trinity Lutheran Church, delivering give-away books and masks from the library bike and trailer. At the Midtown Farmer's Market, they answered questions, promoted online library resources, and connected with community members twice weekly.
Image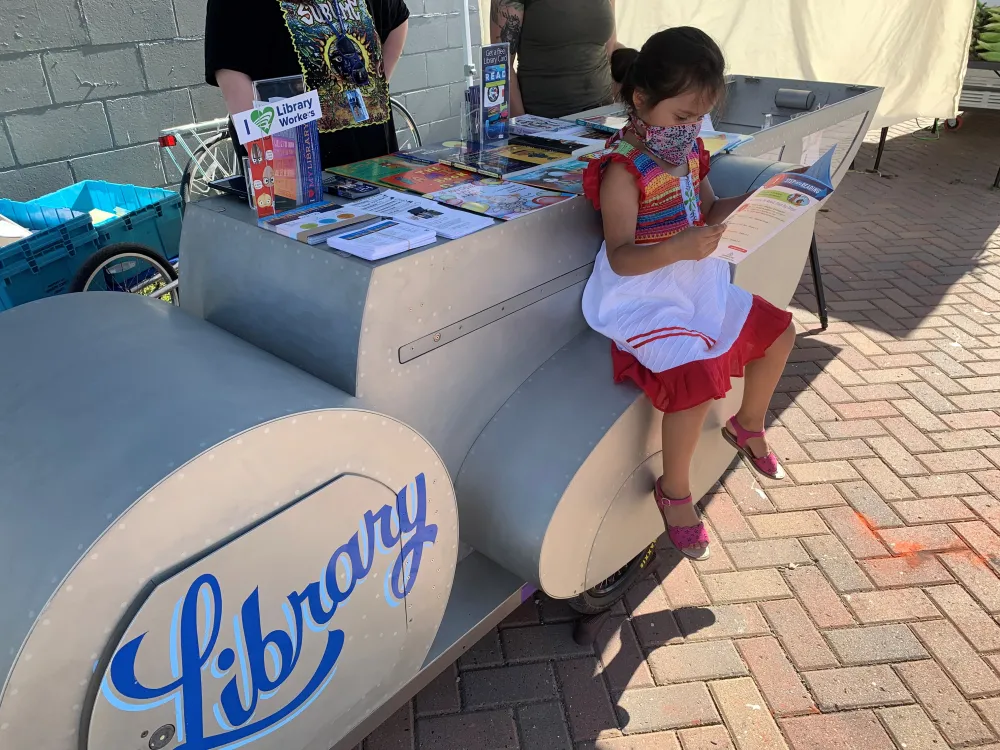 Tackling Racism Through Education
While there are no simple ways to confront the brutal truths of our society, learning is a first step forward. When the community called out for resources to educate ourselves about this country's history of racism and to help us learn, grow, and build a more equitable world for all, our library dramatically expanded access to popular e-resources, including e-books, audio books, and more. With generous support from Friends, Hennepin County Library made the most popular titles, such as How to Be an Antiracist by Ibram X. Kendi, White Fragility by Robin DiAngelo, and Me and White Supremacy by Layla Saad, available for immediate download throughout the summer.
Image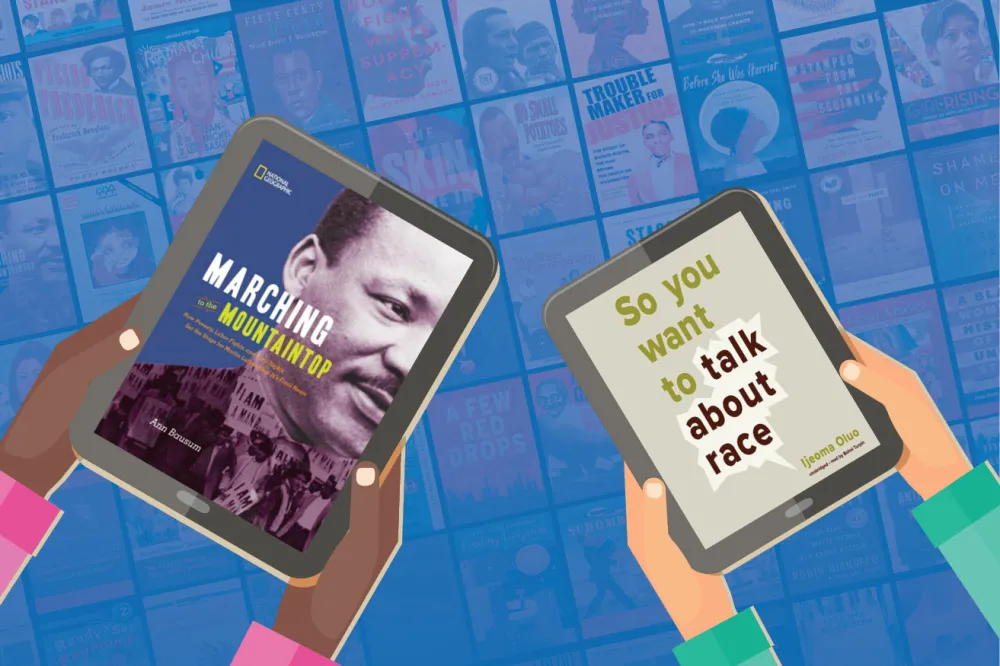 Restoring a World-Class Collection
When the Hennepin County Library Special Collections staff took their first steps back into the library to assess the damages, they noticed first that the books had been removed from their shelves and stacked at the back of the building, away from the street-facing windows. "That's what really struck me," Gail Mueller Schultz, head of Special Collections, tells us. In the midst of the protests, the East Lake community had rallied around its library, rushing in to relocate books to prevent further damage and protect this vital resource in their neighborhood.
Image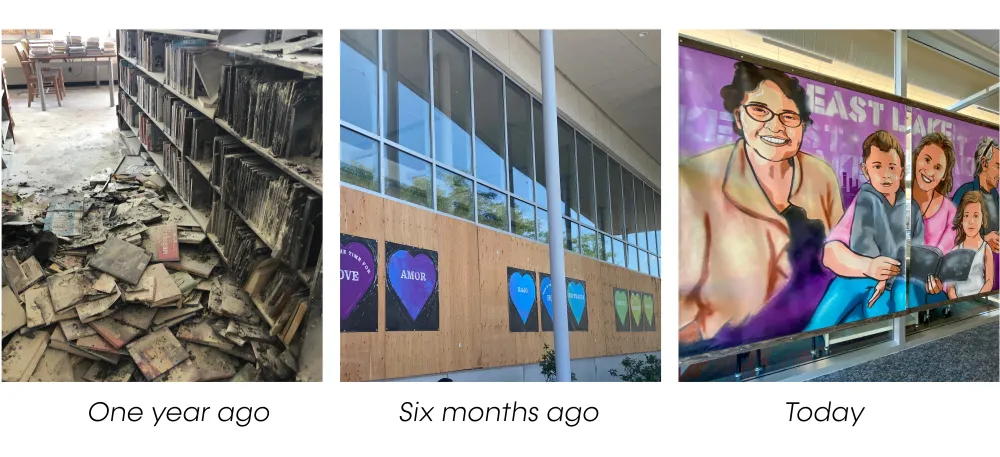 The sight of fine dust covering the collection—ash that had blown in through the broken windows from the surrounding fires—and the permeating smell of smoke that had settled into the pages of the books were hard to bear. But these damages did not necessarily mean total loss. While some books were beyond repair, a company specialized in disaster response and restoration was able to salvage most of the library's precious collection.
Image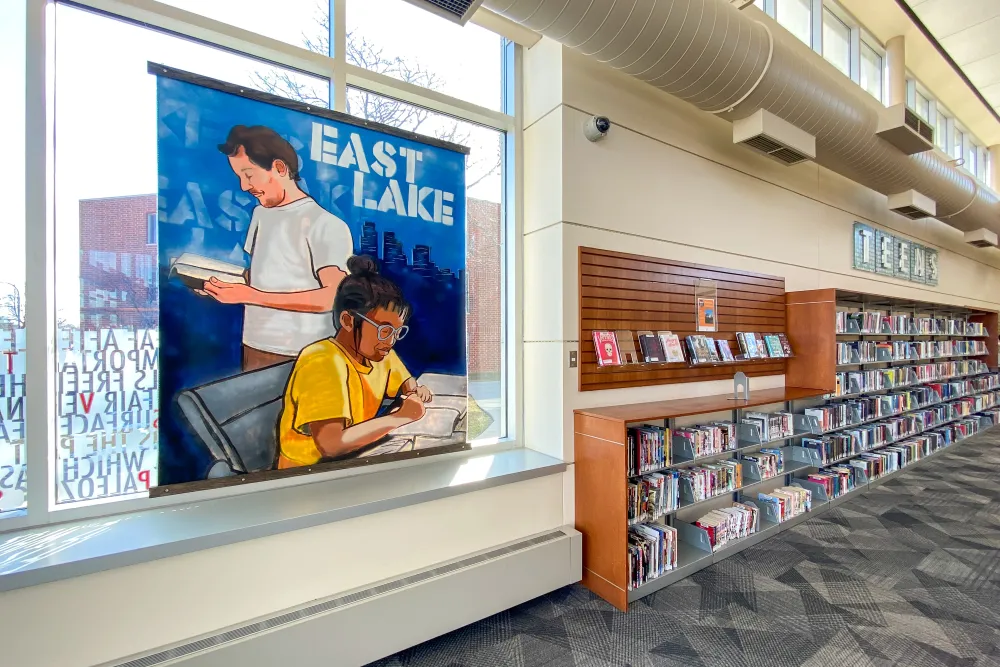 Library Services Now
Today, the fire and water damage has been repaired, shelves are again filled with books, and artwork by a talented local artist is on display throughout the building. Colorful murals by Reggie LeFlore, whose visual art seeks to praise individual and collective stories through human portraiture, overlook the restored interior, including a renovated children's area.
While the pandemic continues to temporarily limit some library services across the county, East Lake Library is again welcoming patrons for short visits to pick up holds, return books, and use the computers. The library has also introduced an on-site social worker, Devin Clarkson, to provide information to patrons in need of help. His weekly guidance helps people navigate the internet and complete applications for Medical Assistance, food stamps, and more. With experience with Hennepin County Health and Human Services, Clarkson is well qualified to refer patrons to services and resources that address employment, housing, mental health, and other needs.
Image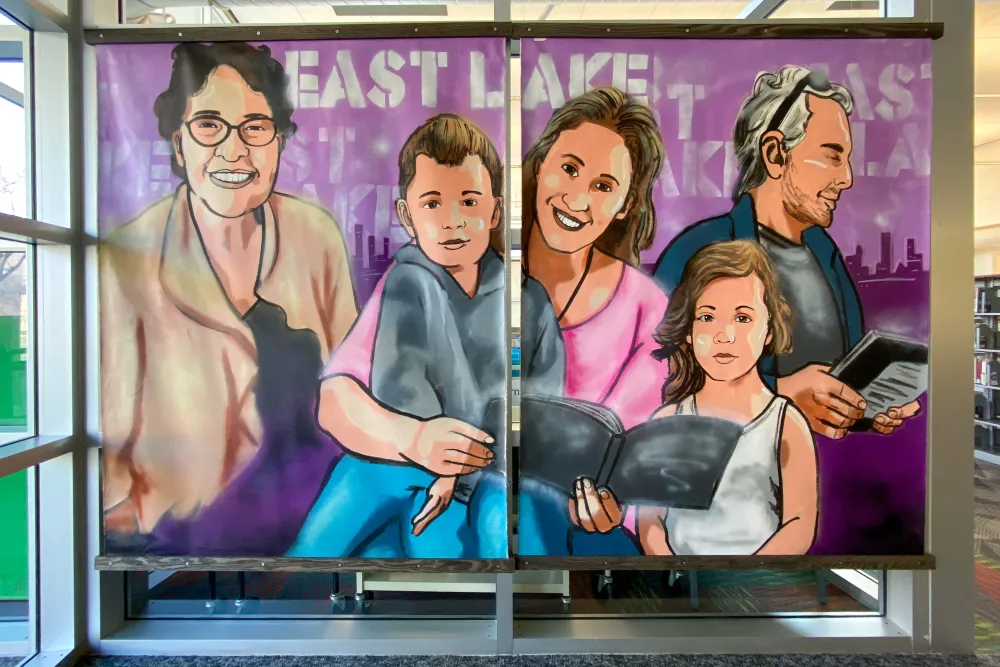 Looking Forward
As we reflect upon all that has happened this past year, we cannot thank you enough for your generous support. But now is the time to look ahead. Not only has the library reopened—a monumental step forward—but it has also continued to enhance its services to uplift and support its community, now and for years to come. The difficult, enduring work of building a truly equitable society remains. Hennepin County Library and Friends of HCL are committed to this necessary work. With the support and partnership of our Friends, we know we can get there.
Discover more stories from your library
Be informed and inspired!