Youth Create, Connect, and Grow While Learning Cutting Edge Technology
The Best Buy Teen Tech Center (TTC) is a free workspace located in Minneapolis Central Library that gives youth access to cutting-edge technology and software to create and express themselves while learning vital skills. Ordinarily, more than 250 young people ages 13–19 come to Minneapolis Central Library to the Teen Tech Center to learn, build skills, and make connections. The Teen Tech Center puts an incredible range of creative tools and software at their fingertips, allowing youth to record music, build robots, engineer and print 3-D objects, design and sew clothing, and so much more. But the heart of the TTC isn't the cutting-edge technology; it's the community formed by library staff, teen leaders, volunteer mentors, and hundreds of youth who show up on a weekly and even daily basis.
I will know I'm successful in life when I am known for what I do well, not for what I did wrong. In the Tech Center they see me for what I do well with my life.
~TTC participant
Meaningful Mentorship
In addition to three full-time staff, volunteer mentors are crucial to the TTC experience. The mentor coordinator places special emphasis on recruiting mentors who look like our members and can relate to their life experiences. Common experiences help mentors forge lasting, life-changing connections with mentees. Some TTC members are homeless or highly mobile. The TTC becomes a stable and dependable place in their lives, and the connections they make at the Center become lifelines. A story in the Star Tribune tells the story of Diego and his sister Sophia, who were living in a shelter with their parents and siblings when they discovered the TTC.
Image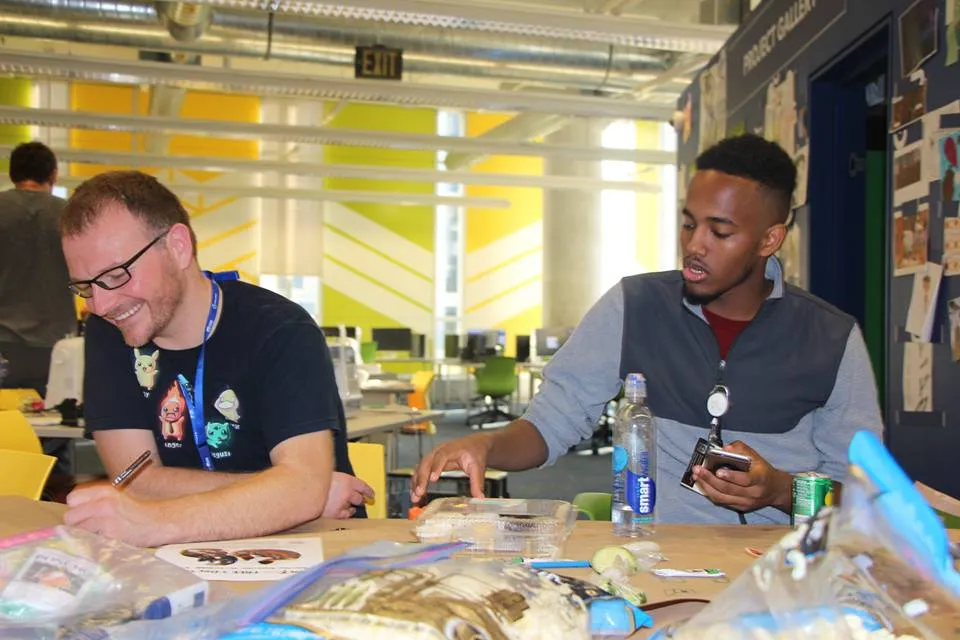 Members often discover unexpected interests. Some of these can even turn into future careers
Nurtured Interests Bloom into Careers
The TTC is an interest-driven, project-based learning environment focused on learning by doing. Working with volunteer mentors representing a wide range of professional expertise, teens are encouraged to follow their interests, often discovering unexpected talents, some of which can even turn into future careers. Tierni began coming to the center because her girlfriend was using the recording studio, and they needed a safe space to go to in the afternoons. She eventually began using the sewing machines and recently completed a quilt for her son. "Before I came here I never knew what my passion was," Tierni says. "Since coming here, I've learned sewing is my passion and want to further it, keep learning, and start my own clothing-line business."
Image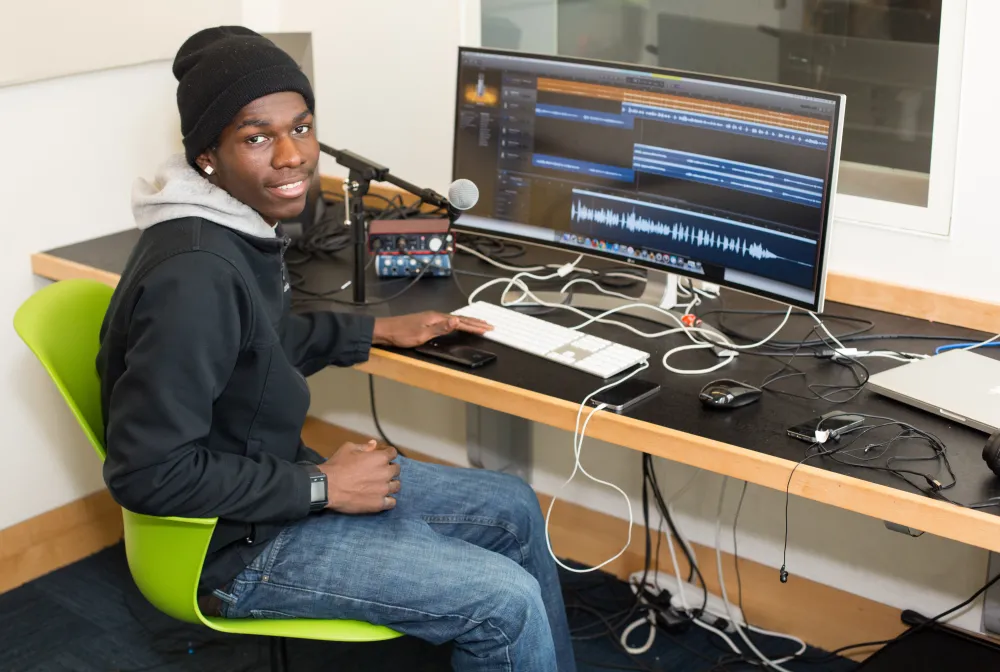 An interest-driven, project-based learning environment focused on learning by doing.
Teen Tech Center Goes Virtual
Like most programs, especially those where gathering and access are central to their purpose, the Teen Tech Center had to find new ways to continue while safely distanced. Early in the pandemic, TTC staff loaned five sewing machines to dedicated users, along with materials to make masks. Staff offered Virtual TTC four days a week, giving youth time together online to work on ongoing projects and connect with peers and mentors. To ensure access, 30 Chromebooks and Wi-Fi hotspots were distributed to TTC members who did not have access to technology at home. A learning opportunity for both staff and program participants, Virtual TTC allowed members and mentors to learn new skills together, further building upon the program's valuable foundation. Teen members are currently in the process of developing a podcast called Think Big, an ambitious project designed to give youth a platform to discuss social and philosophical problems.
In 2021, Friends of the Hennepin County Library is designating $140,000 in support to the Best Buy Teen Tech Center. Many thanks to our Friends members and foundation funders for investing in the learning, growth, and futures of our youth.
Discover more stories from your library
Be informed and inspired!