Youth Create, Connect, and Grow While Learning Cutting Edge Technology
The Best Buy Teen Tech Center (TTC) is a free workspace located in Minneapolis Central Library that gives youth access to cutting-edge technology and software to create and express themselves while learning vital skills. TTC mentors and staff foster an interest-driven, project-based learning environment focused on learning by doing. Ordinarily, more than 250 young people come to the center regularly to learn, build skills, and make connections. The Teen Tech Center puts an incredible range of creative tools and software at their fingertips, allowing youth to record music, build robots, engineer and print 3-D objects, design and sew clothing, and so much more. But the heart of the TTC is the community formed by library staff, teen leaders, volunteer mentors, and the hundreds of young people who show up on a weekly basis.
I will know I'm successful in life when I am known for what I do well, not for what I did wrong. In the Tech Center they see me for what I do well with my life.
~TTC participant
Mentorship that Goes Far Beyond the Classroom
In addition to three full-time staff, volunteer mentors are crucial to the TTC experience. The mentor coordinator places special emphasis on recruiting mentors who look like our members and can relate to their life experiences. Common experiences help mentors forge lasting, life-changing connections with mentees. Some TTC members are homeless or highly mobile. The TTC becomes a stable and dependable place in their lives, and the connections they make at the Center become lifelines.
Empty Rooms Become Open Opportunities
While the TTC doors were closed during the pandemic, staff thought deeply about how to best fulfill the members' interests and needs. This opportunity led to the Teen Tech Center program introducing a groundbreaking additional layer to its mentoring efforts. In addition to the dedicated TTC mentors, the center also recruits mentors from nonprofit and social service organizations who are experts in providing resources and support along with specialized mentors who have expertise in a certain area and a passion for teaching and guidance. One specialized mentor with music production experience was able to give TTC members technical training in music production while helping them deepen their passion for performing and creating.
Image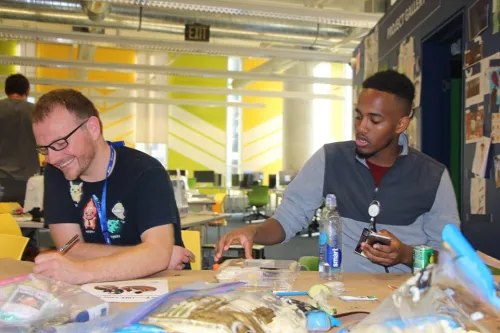 Members often discover unexpected interests. Some of these can even turn into future careers.
Nurtured Interests Bloom into Careers
Working with volunteer mentors representing a wide range of professional expertise, teens are encouraged to follow their interests, often discovering unexpected talents, some of which can even turn into future careers. Tierni began coming to the center because her girlfriend was using the recording studio, and they needed a safe space to be in the afternoons. She eventually began using the sewing machines and recently completed a quilt for her son. "Before I came here, I never knew what my passion was," Tierni says. "Since coming to the TTC, I've learned sewing is my passion and want to further it, keep learning, and start my own clothing-line business."
Image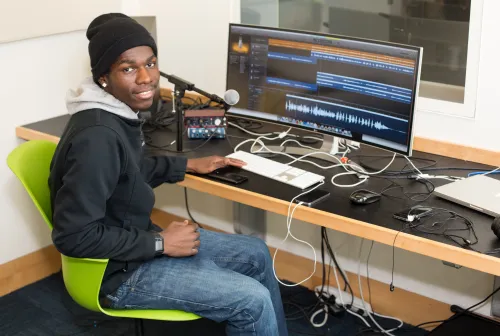 An interest-driven, project-based learning environment focused on learning by doing.
Learning for Mentors and Students Alike
The learning that takes place at the tech center is not only for the students. Mentors themselves are continually learning about topics and skills that help them meet TTC members where they are with caring and understanding. In collaboration with TTC staff and members, TTC mentors decide on the training topics that they feel are the most important. Youth development training topics include: Critical Mentoring, Youth Homelessness, Mentoring through a Creative Lens, Strengths-Based Mentoring, and LGBTQA+ Identities.
Thanks to the generosity of our donors, the TTC continually adapts to the evolving circumstances and needs of members. This year, Friends of the Hennepin County Library is committed to $654,000 in support of youth development programming, including the Best Buy Teen Tech Center, to continue providing youth with spaces for exploration, learning, and growth.
Discover more stories from your library
Be informed and inspired!