Honor Someone & Support the Library
Personalized Bookplates
Image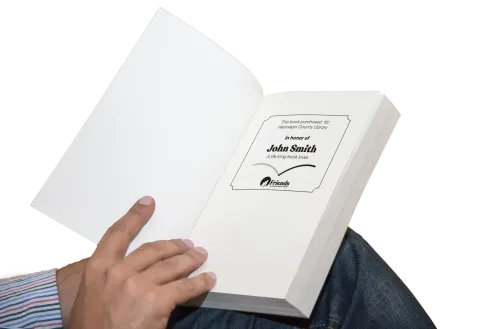 Make a Tribute Gift
For every $50 donated, our librarians place a bookplate inside the front cover of a hardcover book inscribed with the donor's name and the person or event honored/remembered.
Common Questions about Tribute Donations
For both Tribute options, we will send a letter and a sample bookplate to the honoree acknowledging your contribution. When making your tribute gift, please be sure to include the name and address of the recipient so we may notify them accordingly. Donors will also receive an official acknowledgment for tax purposes.
Because of the size and complexity of the library's collection, we are unable to direct bookplates into specific books. Typically, bookplates are placed in popular fiction titles.
Yes, all tribute donations are charitable donations and tax-deductible as allowed by law. Friends of the Hennepin County Library is a 501c3 organization.
Wonderful! While we are unable to offer bookplates for donations less than $50, we gratefully accept tribute gifts of all sizes and will send an acknowledgement letter to your designated honoree or honoree's family.