Tutors as Mentors
Did you have a special mentor who really seemed to understand you, who helped you navigate the challenges of school, growing up, and an uncertain future? From piano teachers to bus drivers to soccer coaches, these encouraging role models have such an impact on the lives of young people. Lead Tutor Thorin N. Tatge of Franklin Library points out, "Research has shown having a third adult in your life, aside from teachers and parents, is very healthy in terms of social development."
Homework Help tutors are that presence for students. The free afterschool tutoring program offers drop-in academic support to students in grades K-12 in 13 libraries. With paid lead tutors at every location and dozens of dedicated volunteers, 90% of students report doing better in school because of their participation, and an even greater number report feeling supported.
It goes beyond the assignments. Students need a confidence boost. They need someone.
~ Forrester Pack, Lead Tutor, Hosmer Library
Forrester Pack, lead tutor at Hosmer Library says, "It goes beyond the assignments. Students need a confidence boost. They need someone." When children and teens attend tutoring sessions, they receive one-on-one attention that can change the way they see themselves and their futures.
Adults volunteering with Homework Help encourage students who feel insecure about their abilities and knowledge. Roosevelt Library and Nokomis Library Lead Tutor Steve Ferris creates a safe space for learning: "What I always tell the students is 'I'm on your team. I'm not going to pretend like I know it all—that's not helpful. I'm going to be in the boat with you. Let's get somewhere." So often, kids give themselves labels about which subjects they can or can't do well, and tutors are using empathy and collaboration to change this narrative.
Homework Help Impact
90% of participants are doing better in school because of Homework Help. 
90% are more confident in the academic areas they focused on in Homework Help. 
93% feel supported by Homework Help tutors.
It feels great when someone says, 'My grades came up because of Homework Help' or 'I came for all these years and it gave me a home base or a foundation.'
~ Thorin N. Tatge, Lead Tutor, Franklin Library 
Exploring Futures
Homework Help volunteers bring experience from a variety of careers to the table. Young people hear stories from a carpenter, a nurse, a writer, an engineer. By asking volunteers about their work, students satisfy their curiosity and develop interests and goals that may shape their own futures.
Long after they finish high school, students remember the care and support they received from Homework Help tutors. Some students even invite their former tutors to college graduations! One former student, now in medical school, dropped by to quiz his former teachers on his coursework. "The students come back and thank us so often. It feels great when someone says, 'My grades came up because of Homework Help,' or 'I came for all these years, and it gave me a home base and a foundation,'" says Thorin.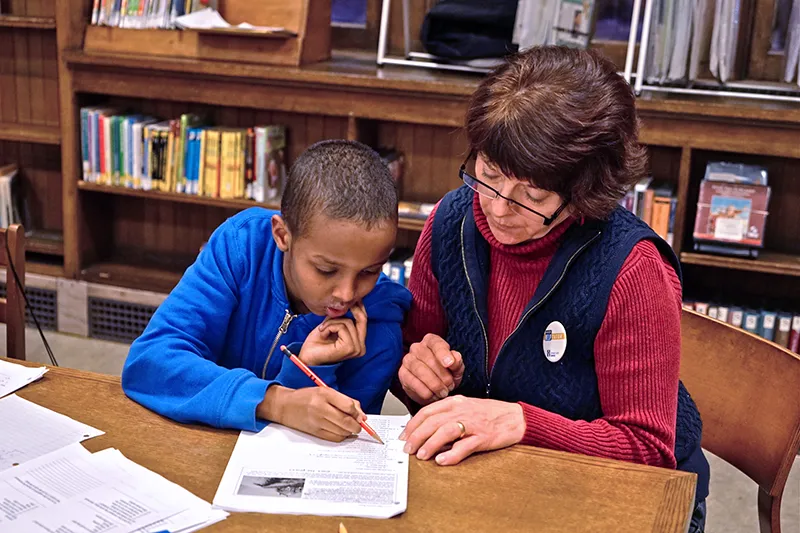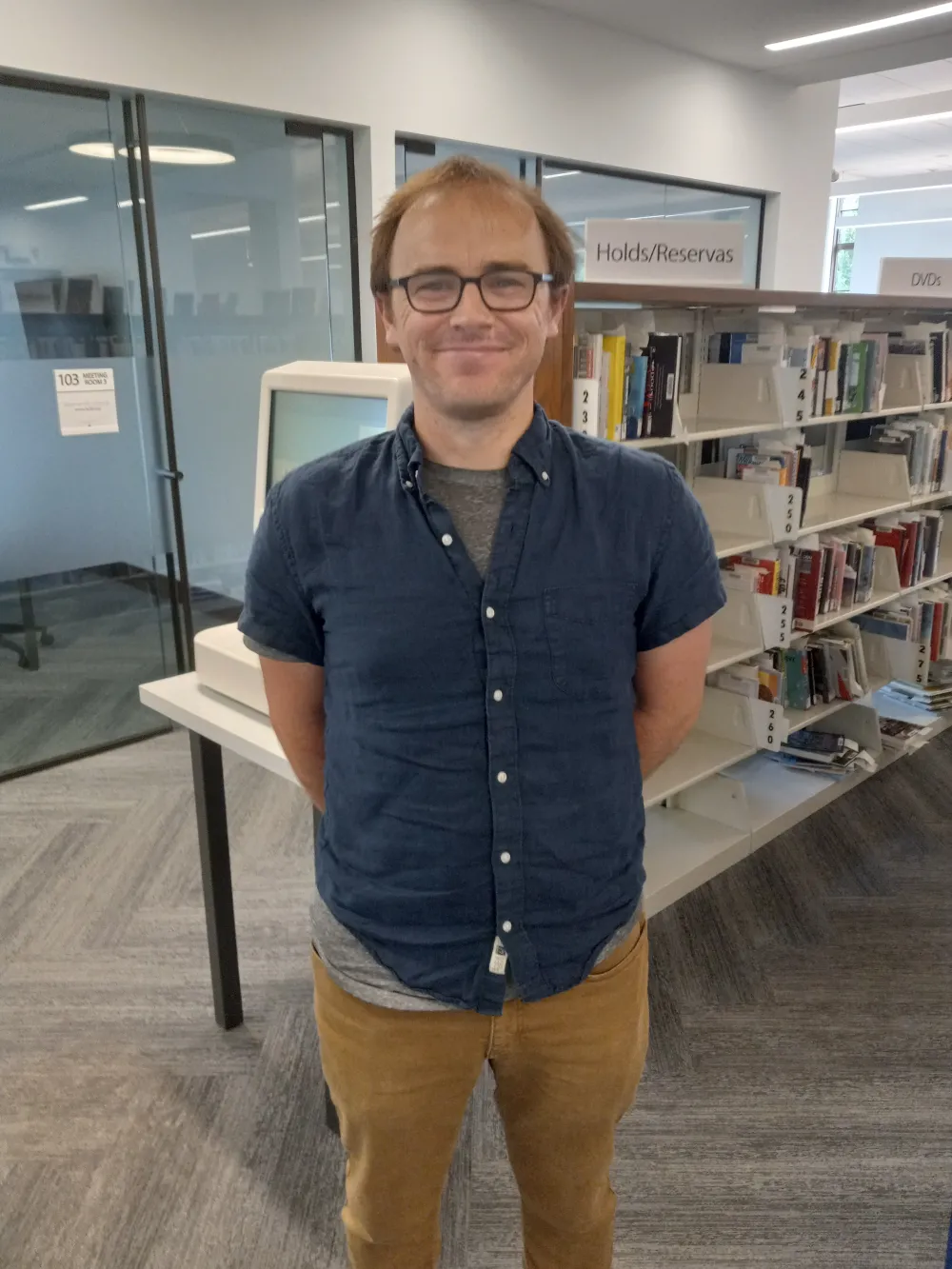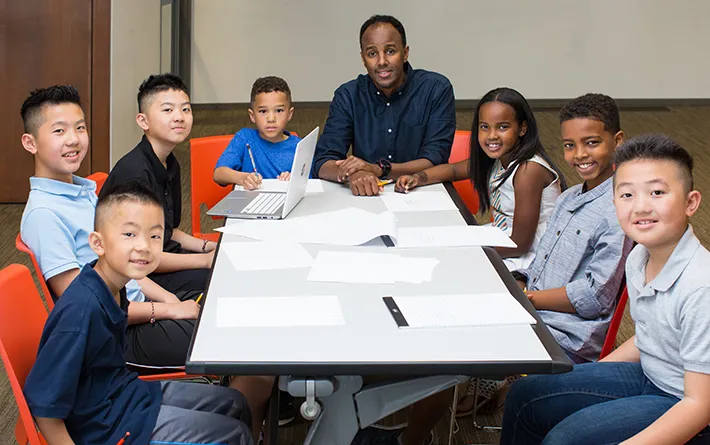 Easing the Burden on Parents and Educators
With teachers reporting pandemic-related setbacks, extra supports are more essential than ever. "In the public-school sphere, there are a lot of shortages and stress. It's hard for teachers to align with every student. Homework Help fits into an interlocking puzzle by providing help outside of school hours. It gives students an afterschool option," says Forrester.
Parents have expressed feeling burnout, as helping their children navigate online learning for two years was no easy task. "Not all parents have the time and energy at the end of their workday to look things up online to help their children do their homework," says Steve. "I talked with a frustrated parent yesterday, and I 100% empathized with where she was."
Parents appreciate that the program is free and that students can stop by as it fits families' schedules. On top of this, many parents benefit from the sessions themselves, attending their child's lessons to strengthen their own English or revisit forgotten skills.
It's my bucket-filler. My day job pays my bills, but this one fills my bucket.
~ Rebecca Hrobak, Lead Tutor, North Regional Library 
Celebrating Student Success
After working so hard in the program, students often have great news to share. "All of a sudden, a student will have an A+ or a 100%. After a while, it's not a surprise. It becomes an expectation. It's good to see their success," says Forrester. On top of student's academic improvements, tutors notice that kids become skilled at asking for help and problem solving, and students report feeling confident. Participating in this transformation is moving. "It's my bucket-filler. My day job pays my bills, but this one fills my bucket," says North Regional Library Lead Tutor Rebecca Hrobak. And when you witness students grow from timid middle schoolers to bold, mustache-sporting teens, how can it not be?
Lead tutors, along with dozens of volunteers serve more than 1,000 students in a typical year, and our library hopes to reach even more young people in the community this year. "We have grown through word of mouth. Friends bring other friends, and friends of friends. It's awesome that patrons are referring patrons," says Forrester. Because of your generosity as Friends, this beloved program is expanding to five more library locations this year to reach even more students across the county.
Discover more stories from your library
Be informed and inspired!