Welcoming Students In
In ordinary circumstances, when the school day ends, Homework Help libraries become collaborative, lively places where youth study with adult tutors, work independently on school projects, and help one another with English translation and reading comprehension. Homework Help, a free afterschool tutoring program, has long been a vital resource for more than 1,300 students each year by offering drop-in sessions with 300+ volunteer tutors at 14 countywide locations. Over 90% are students of color, and 85% are first- or second-generation immigrants. Homework Help goes beyond academic assistance. The safe space to learn, ask for, and receive help also builds confidence and a feeling of support.
Library Helps Students Minimize Academic Disruptions Due to the COVID Pandemic
During the pandemic, with library locations closed, library staff and lead tutors shifted academic support to online, offering virtual and individualized one-to-one tutoring to students at higher risk of experiencing challenges due to distanced learning.
Homework help really helps me get good grades and actually understand my assignment. I feel like I can help someone else using the same concept I was taught at the library.
~ High School Junior
Supporting Students in More Ways Than One
Homework Resources 101 is offered to families on Tuesdays and Thursdays via Microsoft Teams, HCL's virtual meeting platform. This hour-long program allows ten tutors to work with up to 15 students at a time. Participants receive information about library resources and how to use digital services like Help Now for free through the library portal. Tutors find out from students what issues they are encountering and develop personalized plans to make sure students find the help they need to overcome those obstacles. The program began operating in the final days of September; six families participated in the first two sessions.
Help Now is an online tutoring service paid for by MELSA (Metropolitan Library Service Agency) that allows students in grades 3-12 to connect one-on-one with trained tutors from 1-11 p.m., seven days a week, for free! Students get real-time support and can also submit questions and assignments and receive feedback the next day. HCL has offered this service for years, but usage has surged since the pandemic. There were 10,000 log-ins in February 2020 and 9,000 in March, then 20,000 in April dropping to 14,000 in May as school-years wound down.
Image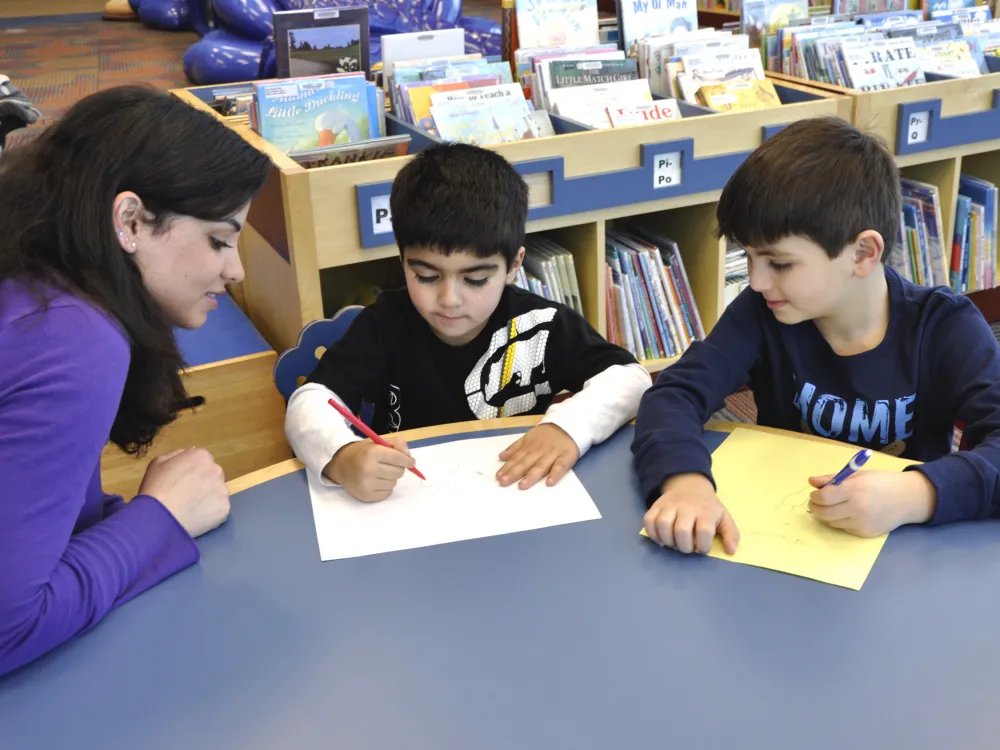 Free online tutoring for all ages is available with your Hennepin County Library Card.
Virtual Homework Help
The virtual learning model offers highly structured long-term mentoring to Hennepin County families struggling with the logistics of online learning, with a focus on those referred to the program by Hennepin County social workers. During the one-to-one video chat, the library staff can help students and their families with various needs ranging from tutoring in reading, math, and other subject to assisting in overcoming technology and language barriers. Lead tutors work with students and parents to create a schedule that meets their needs—from daily check-ins, to weekly sessions, or simply help on request. In its early stages, Virtual Homework Help is serving 31 families and a total of 63 students. More families are being actively recruited by 70 county social workers in areas of foster care, mental health, juvenile probation, and truancy through this continued partnership with Hennepin County Library and Hennepin County.
Future of Homework Help Program
The pandemic has undoubtedly affected the in-person structure of Homework Help, but it has in no way affected its impact and momentum. When in-person tutoring can safely resume, Hennepin County Library will be ready to support in new and creative ways.
Discover more stories from your library
Be informed and inspired!