The Power of Summer Learning
Every summer, Hennepin County Library offers hundreds of free activities for kids across its 41 locations. In addition to programs organized at the county level, local staff leaders create their own unique programs based on local interests and requests, such as classes focused on nature and workshops that get students moving. Throughout the community, libraries are a crucial resource for thousands of families seeking to keep their children engaged and learning during the summer months, providing unique learning opportunities for all ages. Since the onset of the pandemic, the additional support and academic resources Summer Learning provides has become even more vital to students and parents alike.
Through virtual and socially distanced in-person programs, the library brought Summer Learning activities and engagement to 7,000 people in 2021.
Summer Learning—Not an Ordinary Summer School Program
Summer Learning staff has stayed nimble and ambitious—designing activities in 2020 geared to outdoor locations and then expanding offerings in 2021 to encompass virtual and in-person formats. Last year, libraries offered 102 programs and engaged more than 850 young people.
Virtual programs included book clubs, Minecraft meetups, nature and artistic explorations, Nintendo tournaments, virtual escape rooms, and yoga classes accompanied by stories. The library also urged children and their families outdoors with the popular story strolls through local parks—a fun and innovative way to incorporate reading with exercise.
Image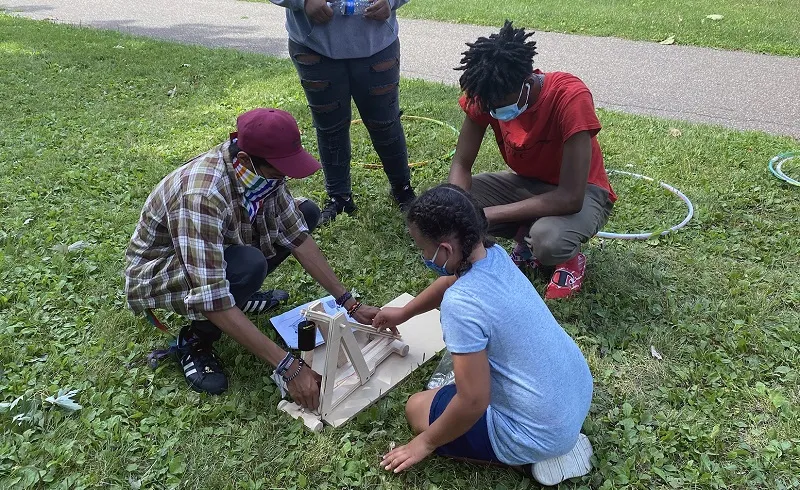 Library staff gave away 8,300 books during Summer Learning in 2021.
Extending the Library's Reach
To extend its reach and connect with as many young people as possible, our library brought their programs and resources to community events. Summer Learning staff partnered with organizations like preschools and early learning centers; farmers markets; the Center for Asians and Pacific Islanders (CAPI); social service and family support agencies; neighborhood associations; food distribution sites; public school summer programs; CANDO's Black Entrepreneur State Fair; and more.
At these events, Summer Learning staff shared information about library services with parents and offered free books and activity kits to students. By bringing the library into the community, library staff reached many families, including some who rarely visited the library. At one event, library staff reported: "We talked with 19 people, both caregivers and children, about books, the library, fall book club plans, etc. We created library cards for six people, including one woman who was so relieved that fines were waived. She mentioned having fines on her account since she was in the 9th grade that she never could pay. She ended up signing up not only herself, but both her daughters." By breaking the ice and connecting one-on-one with community members, the Summer Learning staff continues to encourage more families to feel comfortable using the library.
Community Engagement events reached more than 3,000 adults and 2,000 youth.
Learning Made Fun, All in One Kit
In total last summer, library staff and partners distributed 7,600 summer learning kits filled with fun, educational activities appropriate for different age levels. "Thank you for the amazing STEM kits!" one patron wrote. "My daughter had the best time with them, and they were so engaging. I didn't know what to expect, but the materials were impressive, and the activities were so fun, thoughtful, entertaining, and educational. I am a science teacher and may have to use some of these ideas in my classroom in the future! Thank you SO MUCH!" After a year of creating activities for their children, parents told us how appreciative they were to the library for supplying high-quality, well-designed activities for their children.
Looking Forward to Another Summer of Learning
Library staff are already planning for another incredible summer of learning and engagement. As we get close to the warmer months, keep an eye out on the library's website to learn more about what our library has in store this year!
Discover more stories from your library
Be informed and inspired!