Summer Learning, a beloved program that promotes continued learning, engagement, and curiosity for children all summer long, returns this year with online book clubs and events in addition to great books for all ages! Visit the library's program page to stay up to date with all that is available for kids this summer.
STAY UPDATED ON SUMMER LEARNING
Summer Learning from a Distance
In an ordinary summer, HCL offers hundreds of free activities for kids at all 41 libraries. In addition to approximately 800 programs organized at the county level, staff leaders at every library create their own unique programs based on local interest and requests. Hennepin County libraries are a crucial resource for thousands of families seeking to keep their children engaged and learning during the summer months, combating learning loss and providing unique learning opportunities for all ages. In 2020, library staff quickly pivoted to develop creative and safe ways to offer vital summer learning.
Through virtual and socially distanced in-person programs, the library brought Summer Learning activities and engagement to 7,000 people, despite the pandemic.
Community Outreach Partnerships
In an attempt to reach as many people as possible, the library partnered with more than fifty organizations including: summer schools, low-income housing, YMCAs, social service agencies, food pantries, immigrant settlement agencies, shelters for families experiencing homelessness or domestic violence, farmers markets, and more. These partnerships resulted in book fairs and giveaways, scavenger hunts, STEM workshops with HCL Teen Tech Squads, and the distribution of activity kits filled with everything from comic-making materials to back-to-school supplies.
Image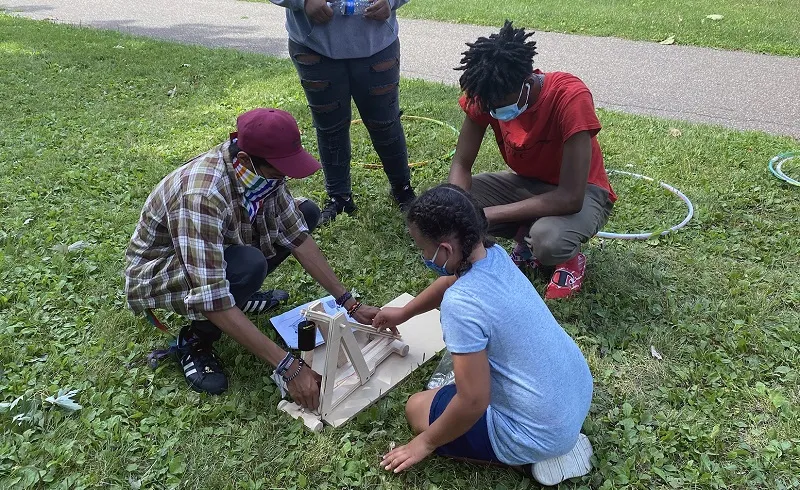 More than 1,000 people reached through 113 online summer programs.
Online Programs
In 2020, HCL also offered 113 summer programs online to continue widening the program's reach while prioritizing safety. More than 1,000 young people participated in virtual versions of some of the most popular activities from previous summers, including book clubs, anime and fandom trivia, multi-player online gaming, theater camp, escape rooms, and yoga classes.
Library's All Are Welcome Van brings learning and joy to parks across the county.
Pop-Up Parks Partnership with Minneapolis Parks and Recreation
HCL's "All Are Welcome" mobile library van proved a crucial resource for allowing the library to connect in-person with patrons during the pandemic, especially when library buildings were closed completely. Through a partnership with Minneapolis Park and Recreation, the library offered pop-up libraries five days a week for seven weeks, serving 581 people. In addition to book giveaways, and library resources, the pop-ups offered unique ways for children to actively engage and learn from a safe distance. For parents without internet access, the pop-ups offered a chance to learn more about library services, connect to vital resources, and speak with library staff in person. You can read more about the library's van's work last summer in our special feature!
Discover more stories from your library
Be informed and inspired!