When the library declared their mission to provide essential resources, services, and support to all patrons, they understood that this work would need dedicated effort and collaboration to ensure that all patrons from all communities would feel welcome.
Sprung from this idea, the Community Outreach initiative began four years ago to transform relationships between Latino and Native American communities and their local libraries. Hennepin County librarians and community liaisons have been working together to create new programs, adapt traditional services, support neighborhood initiatives, and build networks of support. The result? Community Outreach now offers highly popular programs that help hundreds of adults advance their careers, maintain or improve their families' health, express themselves creatively, celebrate their cultures, and engage in meaningful interactions in their communities.
"There is a shift in the way people are thinking about the library," Karina, Community Liaison at Oxboro Library, tells us. "Before, it was a place they didn't see themselves…a place that had never been for them. Now, there is so much excitement and so much interest about the library. It's absolutely incredible!"
Community Outreach at Oxboro Library
With multiple Spanish speakers now on staff, Oxboro Library in Bloomington has transitioned from a place where Latino immigrants rarely ventured to what some describe as the heart of the community in Bloomington and Richfield. In 2021 alone, more than 400 Latino families signed up for library cards through Community Outreach. One of the most popular programs is a huge celebration during Hispanic Heritage Month, which the community renamed Celebrando Juntos (Celebration Together.) Another popular program is the Spanish-language business Entrepreneurship Series, which helped launch twelve new business registrations.
Community Outreach at Franklin Library
Franklin Library is experiencing similar transformational shifts. This library is in the heart of the American Indian Cultural Corridor, one of the most tribally diverse regions in the country. Working closely with members of the Native American community in and around the library, and even pioneering the first Native Advisory Council, Community Outreach has offered events and programs that have helped transform people's attitudes about the library's role as a trusted, safe, and welcoming gathering space.
Popular programs include the Virtual Native American Women & Friends Book Club, Family Fun Nights in partnership with the Minneapolis American Indian Center, and the newly pioneered Native Advisory Council. Through these activities, patrons have connected and supported one another while celebrating Indigenous traditions and contemporary life.
One patron, Fallon, exclaimed, "I love the staff at Franklin! Allison has helped me with job applications, job resources, and has always made me feel a part of the library community. I have had the opportunity to attend a lot of awesome events because she always keeps me in the loop."
Image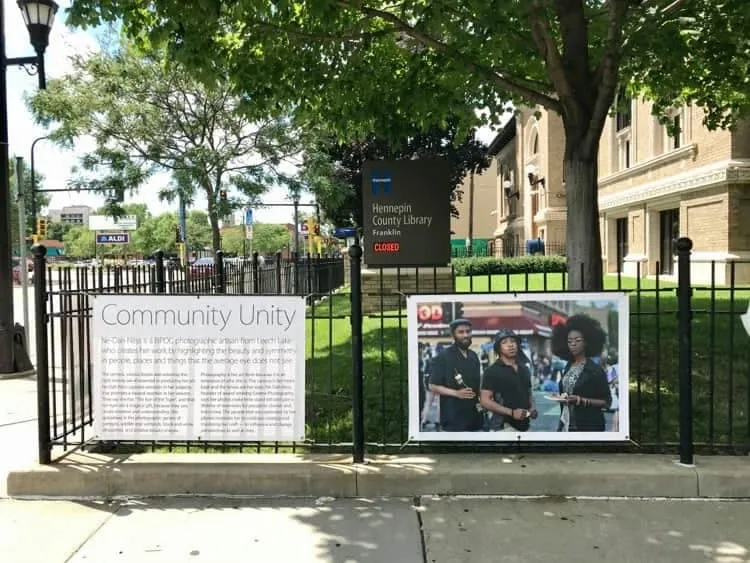 Lifesaving Connections
The COVID-19 pandemic revealed how deeply the new and transformed connections between the community and the library now run. When other County agencies needed to reach Native American and Latino communities to provide vital pandemic-related services, they turned to the library for help. In addition to distributing thousands of free books and activity kits to families, community liaisons connected residents with vital resources for rent assistance, food security, internet access, public health (technology, masks, informational resources), and human services.
Community Outreach Programming for 2022
The Community Outreach staff has exciting plans in store for 2022. Oxboro Library will offer:
Virtual Digital Literacy Classes for Native Spanish Speakers
This 8-course series of classes will help patrons build skills, knowledge, and confidence in navigating the online world. The 2-hour sessions will cover email, Word, Excel, PowerPoint, online registrations, social media, and information searches.
Virtual Business Entrepreneurship Series
Due to high demand, this popular 6-course series will be offered continuously in 2022. By covering topics like business registrations, taxes, social media promotion, and online sales, the class will help participants create successful businesses in a competitive market.
Virtual Book Club for Native Spanish Speaking Adults
This book club focuses on Spanish language titles written by Latin American and Spanish authors. Due to popularity, the book club will meet monthly in 2022 rather than every other month as it did in 2021. One participant shared: "I found out about this group through church, and when I saw the title of the book, I thought it was really interesting. There were a lot of new words I had to look up because I didn't know what they meant. It took a long time to read, but I really liked it. I am so grateful for this opportunity."
Virtual Conversations with Community Resource Providers
These conversations offer community members the chance to connect with representatives from government agencies and nonprofit service providers to ask questions and gain information on topics ranging from healthcare to becoming a first-time homebuyer.
Early Literacy Skill-Building for Parents and Caregivers
In partnership with Urban Ventures, Oxboro Library will host a prenatal class to teach participants fun and interactive ways to read to their children and build critical literacy skills along with using library resources and programs.
Outdoor Activities for Families
The library will partner with Outdoor Latino, Three Rivers Park District, MIRA, the Bloomington Wildlife Refuge, and local schools to distribute Spanish language materials, promote library resources and services, host cultural activities, and issue library cards to families this summer.
Cultural Celebrations
Community Outreach at Oxboro Library will continue its array of events celebrating the heritage and cultures of Latino patrons, including celebrating Hispanic Heritage Month, community conversations, story times with abuela (grandmother), and more.
Initiatives at Franklin Library include:
Virtual Native American Women & Friends Book Club
This book club meets monthly to read bestselling new books by Indigenous authors. In their discussions, participants bond over themes of resilience, family, community, health, and trauma. One participant shared how connecting with other Native American women has helped her reflect on her identity and not feel so alone in her thinking.
Indiginerd Native Comics Club
Each month, club participants discuss a new title and hear from different comic creators and editors. The club discusses Native representation in comics and has attracted participants across the U.S. since going virtual.
Hennepin County Library Native Advisory Council
The first of its kind in the country, this council of fifteen members meets monthly to advise the library on issues like collections and land acknowledgment. Council members include many distinguished leaders, scholars, and activists representing organizations like the Minnesota History Center, Macalester College, University of Minnesota, the Red Lake Reservation, and the Minnesota Indian Women's Resource Center.
Family Fun Nights with the Minneapolis American Indian Center
These gatherings feature a new focus each month; recent evenings have featured stories of winter, traditional red willow tobacco, and a pow-wow with a virtual audience judging live performers.
Four Sisters Farmers Market
This Indigenous-centered market focuses on local foods from Phillips and the surrounding neighborhoods. At the market, community lianson talks about library resources and gives away books written by local Indigenous authors, coloring sheets designed by Marlena Myles, and buttons with tribal seals.
Bring Her Home Virtual Film Screening and Discussion
Franklin will host a screening of Bring Her Home, a documentary following three Indigenous women as they fight to vindicate and honor their missing and murdered relatives. The event will include a discussion with filmmaker Leya Hale facilitated by Nicole Matthews, CEO of the MN Sexual Assault Coalition.
YMCA "Enough" Partnership
In collaboration with the YMCA, Community Outreach seeks to support youth victimized by sex-trafficking. The program offers free books and discussion sessions to assist teens who are highly mobile or experiencing homelessness. The program also helps participants attain library cards and other resources.
Outdoor activities for families
Community liaison meets with families outside during the summer at pow-wows, round dances, community resource fairs and feasts, and National Night Out gatherings. During the events, Community Outreach staff members distribute summer learning kits and books by Indigenous authors while also promoting library resources and services.
Supporting Community Outreach
To continue breaking down barriers and ensuring the library can reach all patrons, Friends of HCL has committed to giving $580,000 in 2022 toward community outreach initiatives like Community Outreach. The library knows that to be truly inclusive takes dedicated resources and effort. The Community Outreach team is excited to see their work continue to flourish with all the programming and events planned for 2022, and we are excited to be alongside them, supporting their efforts and sharing their triumphs with our Friends.
Discover more stories from your library
Be informed and inspired!