Our library's work to provide essential resources, services, and support to communities across Hennepin County includes far more than open-door access to library buildings. Sometimes, this work means stepping outside the library's doors and extending a welcoming invitation to the neighboring communities.
Sprung from this idea, Community Embedded Library Service (CELS) began three years ago to transform relationships between Latino and Native communities and their local libraries. Hennepin County librarians and community liaisons work together to create new programs, adapt traditional services, support neighborhood initiatives, and build networks of support. With five Spanish speakers now on staff, Oxboro Library in Bloomington has transitioned from a place where Latino immigrants rarely ventured to what some describe as the heart of the community.
"There is a shift in the way people are thinking about the library," Karina, a librarian at Oxboro, tells us. "Before, it was a place they didn't see themselves…a place that had never been for them. Now, there is so much excitement and so much interest about the library. It's absolutely incredible!"
Franklin Library is in the heart of the American Indian Cultural Corridor, one of the most tribally diverse regions in the country, and experiencing similar shifts. Their events and programs have empowered the Native American community in and around the library and helped transform people's attitudes about the library and its role as a trusted, safe, and welcoming gathering space. Book clubs, workshops, story times, and author talks have filled the library with Native American artists, performers, and attendees to share stories, celebrate culture and heritage, and support one another.
Image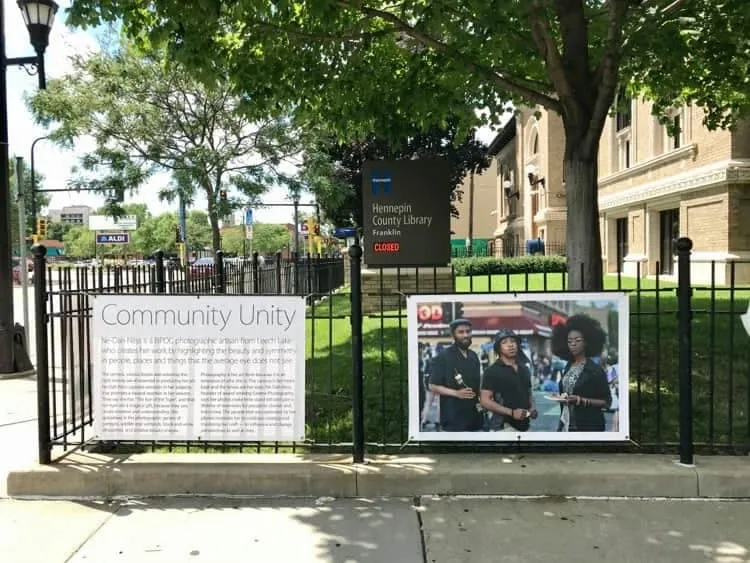 Life-Saving Connections
The COVID-19 pandemic has revealed how deeply these connections now run. When other County agencies needed to reach Native American and Latino communities to provide vital pandemic-related services, they turned to the CELS libraries for help. In addition to distributing thousands of free books and activity kits to families, CELS liaisons connected residents with vital resources, rent assistance, food security, Internet access, public health (technology, books, masks) and human services.
CELS Thrives Online
While the pandemic paused in-person programs, the connections to the library became stronger than ever. In 2021, both Franklin and Oxboro Libraries are offering virtual programs and services with access to library resources, skill-building, educational opportunities, and many other priorities identified by local community members. Many of these programs are made possible thanks to connection and collaboration with an expanding network of like-minded organizations. Oxboro Library's partners include Normandale College Latino Outreach, MIRA: Recursos Para La Comunidad, Neighborhood Development Alliance, Comunidades Latinas Unidas en Servicio, the Hennepin County Office of Multicultural Service, the Mexican Consulate, the Consulate of Ecuador, and more. At Franklin Library, CELS team members partner with the Minneapolis American Indian Center, local artists and writers like Marlena Myles and Ne-Dah-Ness Greene, the Minneapolis Public Schools Indian Education Department, Birchbark Books, the Native American Advisory Council, and more.
CELS Programming for 2021
Minneapolis American Indian Center Family Fun Night
This reoccurring event features a new focus every month; recent evenings have featured stories of winter, traditional red willow tobacco, and a pow-wow with a virtual audience judging live performers. Indiginerd: This monthly book club welcomes teens and adults and focuses on indigenous comics with special guest speakers and an Anishinaabe facilitator.
HCL Native American Advisory Council
The first of its kind in the country, this council of fifteen members meets monthly to advise the library on issues like collections and land acknowledgment. Council members include many distinguished leaders, scholars, and activists representing organizations like the Minnesota History Center, Macalester College, University of Minnesota, the Red Lake Reservation, and the Minnesota Indian Women's Resource Center.
Native American Women and Friends Book Club
This book club gives members a space to bond over themes of resilience, family, community, health and trauma, through the shared reading and discussion of bestselling books by indigenous authors.
Local and national commemorations
The library celebrates local and national commemorations like Minnesota's American Indian Month in May, Indigenous People's Day in October, and national Native American Month in November with community events, public readings, library displays, and more.
Other activities
Other ongoing activities include supporting indigenous programming at Minneapolis Public Schools, creating pen pal activities for 60 isolated youth with custom designs from local artist Marlena Myles, and even connecting law enforcement teams with activists against sex-trafficking of Native American women.
Virtual digital literacy classes
Offered twice a month, these classes teach tech skills ranging from creating an email account to navigating MyChart for healthcare.
Spanish-language book club
Parents and caregivers meet once a month, offering guidance on how to help children develop a love of reading and improve their academic reading skills.
Latino Entrepreneurship Series
This six-week course addresses challenges immigrants often face when starting a business. Topics include how to register a business in the state of Minnesota, understanding tax requirements, promoting a business through social media, and online sales.
Spanish-language college prep
In partnership with Normandale College's Latino liaison, this program series features new speakers each week who answer culturally specific questions for immigrant parents about the nuts and bolts of sending the first generation in their family to college.
Monthly conversations with community resource providers
These conversations give community members a chance to ask questions and interact with representatives from partner organizations, such as the Hennepin County Office of Multi-Cultural Services, the Mexican and Ecuadorean consulates, and many local nonprofits.
Family craft events
These events offer a chance for multiple generations of family members to connect over cultural activities. For instance, 15 families (over 60 people, including many fathers and teens) created pinatas with library-provided materials and shared stories about traditions and memories from their home countries.
Spanish story times
Shared through Facebook, the popular story times will soon feature Latino puppeteers!
Discover more stories from your library
Be informed and inspired!