Diane Wilson (Dakota), author of the new book The Seed Keeper, talks about her favorite writers, her converted writing studio, and why A Wrinkle in Time inspired her as a young activist.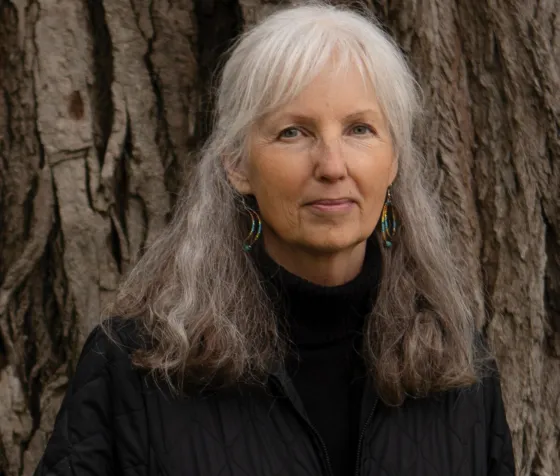 A Wrinkle in Time provided a jolt to my imagination at a young age. This book gave me an early model for activism that I have carried all my life. 
- Diane Wilson (Dakota)
What's your latest book, and can you share your Twitter pitch (in 140 characters or less)?
The Seed Keeper tells a fictional story of several generations of a Dakota women and their struggle to protect their indigenous seeds and way of life.
What book inspired you to be a writer?
A Wrinkle in Time by Madeline L'Engle provided a jolt to my imagination at a young age. I was captivated not only by the possibility of time travel, but also the portrayal of a mind-numbing, repressive society that emphasized conformity. I still remember with great clarity how these young characters resisted that force to become heroes of the story. This book gave me an early model for activism that I have carried all my life.
How do you read – paper, e-book, audio?
Books are my preference with Kindle used for travel and bouts of insomnia.
What book do you constantly share/gift?
Braiding Sweetgrass by Robin Wall Kimmerer is a groundbreaking, eloquent and prescient volume of essays that brings together the disparate voices of traditional indigenous thinking with Western science. Robin's work emphasizes, above all, the kinship that unites us not only with each other, but with all other species as well. It's a beautiful vision for a more compassionate world.
Where do you write and where do you read?
I have a small studio that was converted from a single car garage. I mostly read on my bed.
What book coming out this year are you most excited to read?
I just finished Kawai Strong Washburn's Sharks in the Time of Saviors and consider it a fantastic read!
Name one author whose books you never miss.
What are you working on now? How is it similar to/different from work you've done in the past?
I'm currently writing essays and working on a children's picture book. Both are much shorter than full-length books, which I'm enjoying!
What do you want to see more of in contemporary writing?
Engagement with real world issues crafted in lyrical, compelling language.
Write or read? Pick one.
What?! How? They're inseparable.
What's the last book you checked out from the library?
Books about Ella Cara Deloria for a middle grade biography I wrote about her life.
Order Diane Wilson's latest book "The Seed Keeper" from Birchbark Books. Website: dianewilsonwords.com
Read more interviews with local authors
Be informed and inspired!