The Book Arts and Fine Press Collection includes hundreds of works by local and national book artists and fine press publishers in addition to books about book artistry, which includes printing, papermaking, fine binding, typography, and more. The library acquires dozens of new artists' books annually and often works directly with artists in the community to build the collection.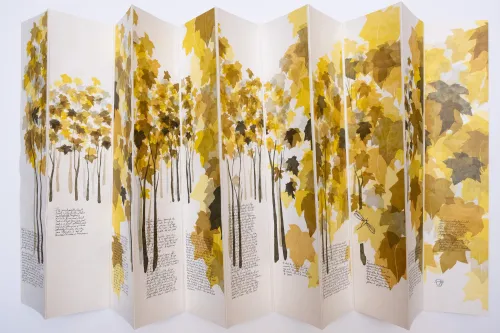 CB Sherlock
Seymour Press, 2017, Edition of 30
A full printing of William Shakespeare's play, A Midsummer Night's Dream. Letterpress printed on a Vandercook No. 219 with Caslon Old Style metal type from M&H Foundry, with 8-color linoleum and polymer plate prints introducing each act. The book's open spine is sewn over walnut ink dyed threads, and the binding encircles a tree branch collected from Sherlock's travels through Colorado, Wisconsin Montana, and Minnesota. The deluxe edition is housed in a double tray box and accompanied by a Wildwood print concertina constructed of eleven 22 x 4.5 inch panels, each relief printed with trees and insect fairies that together form the enchanted landscape of the play.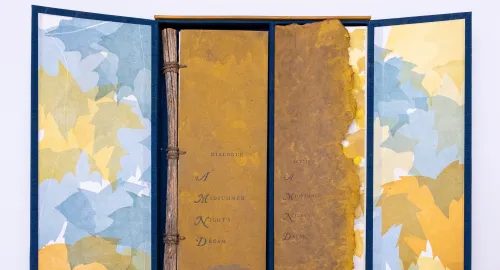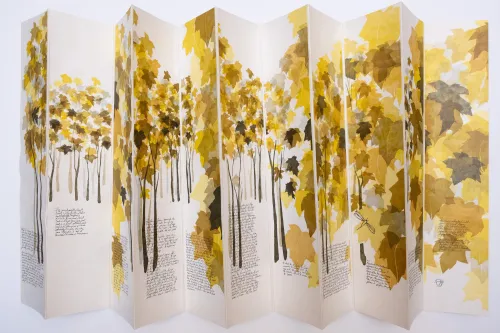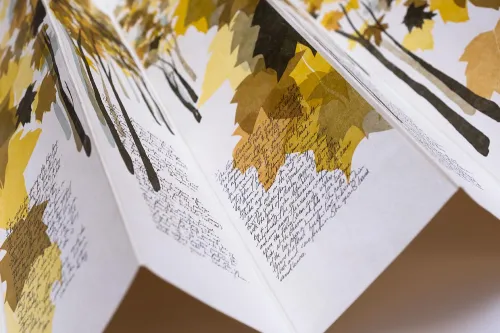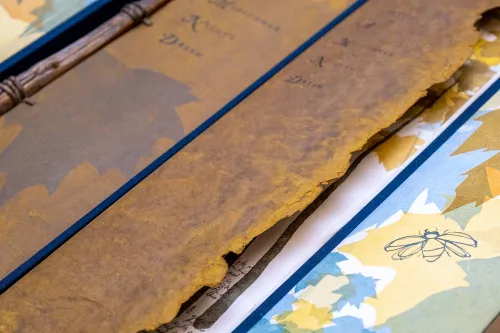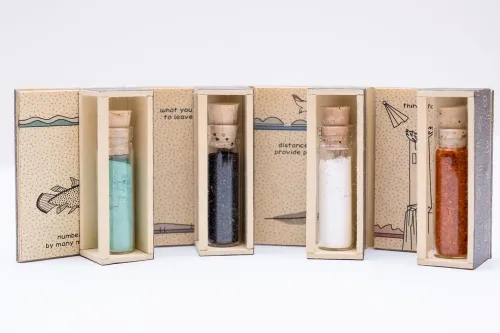 Jody Williams
Flying Paper Press, 2018, Edition of 44
At once a book, a box, and a puzzle, For Now is a book about dust. Each vial of "dust" represents specific places from the artist's life as they relate to directions and elements: West/Water/Hawaii, North/Earth/Minnesota, East/Air/Ireland, and South/Fire/Florida. The book measures less than three inches high and is comprised of four two-sided boxes, each holding a separate vial of dust, and attached to four accordion-folded pages. It was the winner of the 2019 Minnesota Book Artist Award.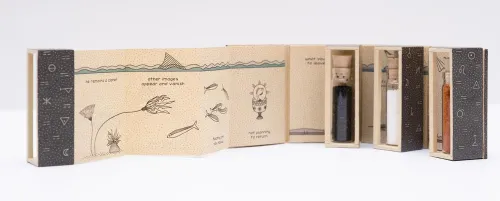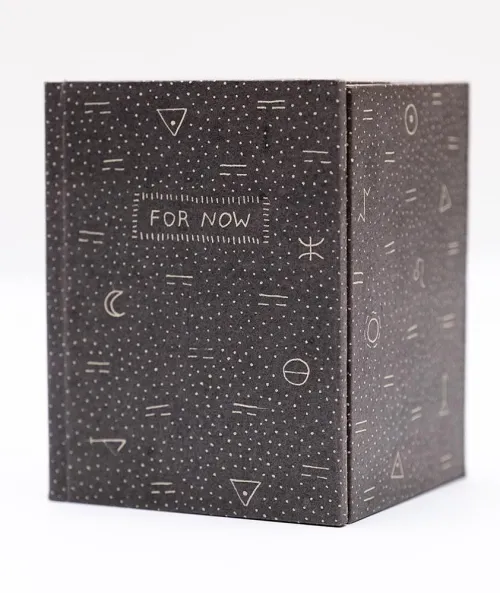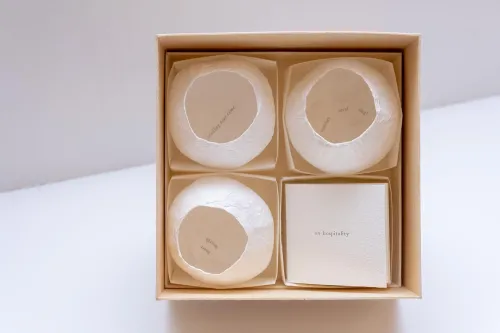 Regula Russelle
Cedar Fence Press, 2014, Edition of 6
Three delicate handmade paper bowls—measuring approximately 3 inches—and accompanying folded accordion-style book containing a quotation by Lao Tzu and letterpress-printed words and fragments of poetry. The work considers the cultivation of hospitality and Russell's commitment to cultivating gardens, song, libraries, and community. She also breaks the boundaries of what qualities define a book.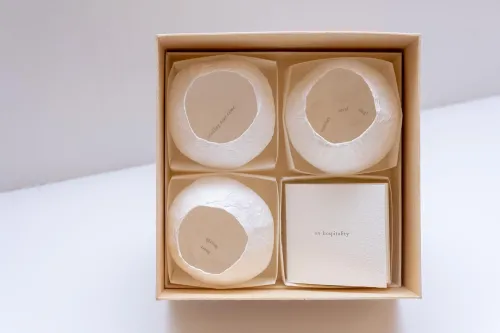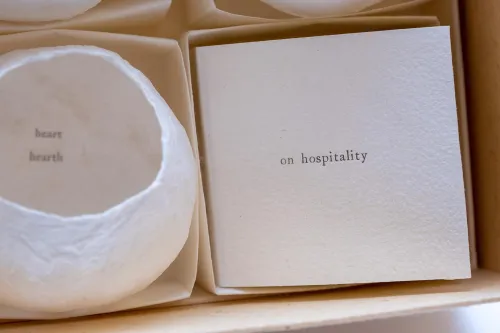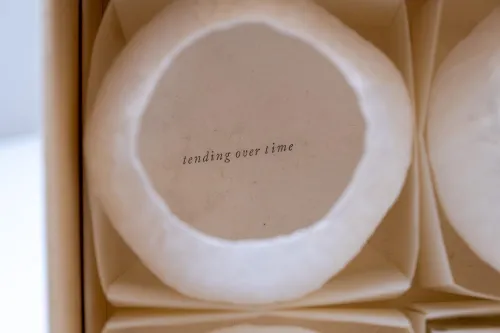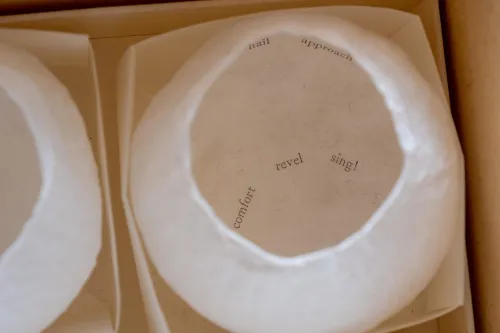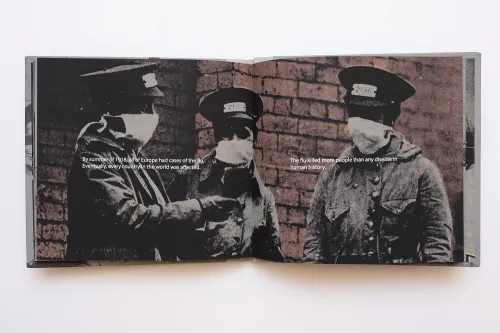 1918
Fred Hagstrom
Strong Silent Type Press, 2020, Printed in silkscreen with drum-leaf binding, Edition of 19
This book includes statistics, excerpts from personal letters, and photographs from the 1918 Spanish Flu. The disease killed more than 650,00 people in the U.S. and the estimated death total world-wide was as high as 100 million. In contrast, the First World War killed 10-12 million. COVID-19 brought renewed interest to the 1918 flu epidemic.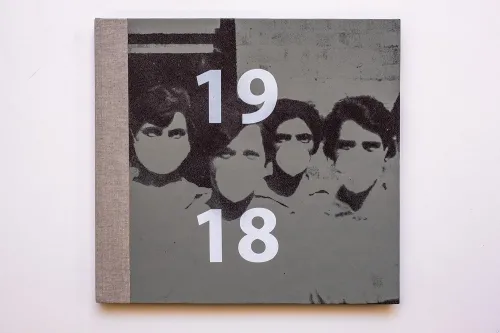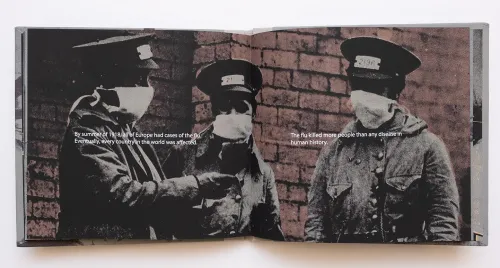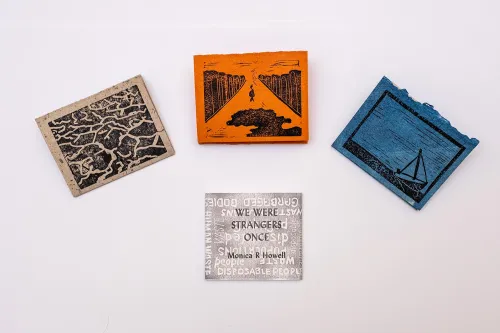 Monica R. Howell
Chibi Press, 2017
A book about refugees, inspired by a call for Jews observing Rosh Hashanah to dedicated their Unetaneh Tokef prayer to refugees and to reflect on the circumstances facing those who are running for their lives. Howell draws upon two major inspirations: Jewish texts (prayers for remembrance and protection), and academic writings on refugees as humans-as-waste, or, disposable people. Each book page features a hand-carved and hand-printed image related to that page's text: drought-cracked earth, a child in a refugee camp, and a shipwreck. Printed on Minneapolis-made Cave Paper.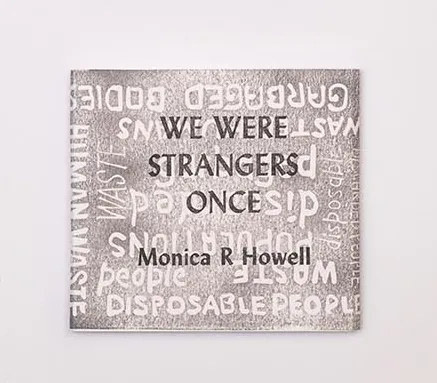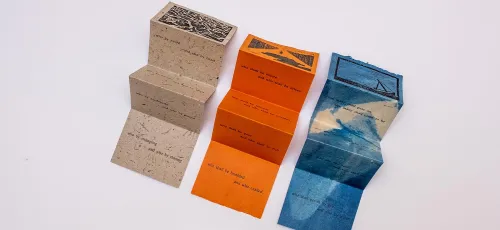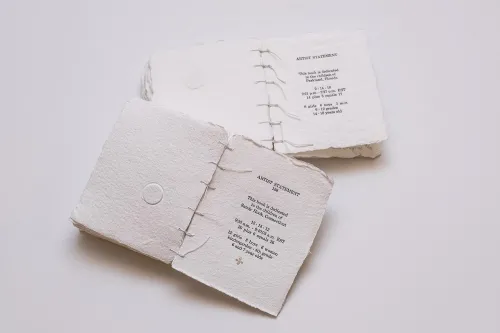 Marvel Grégoire
2016, Edition of 10
This book is dedicated to the children of Sandy Hook, Connecticut. It consists of two leaves of text and twenty-six illustrated leaves, each one representing a victim of the Sandy Hook elementary school shooting, which occurred on December 14, 2012 in Newtown, Connecticut, killing 20 children between six and seven years old and six adult staff members. Each illustration consists of a single 16 mm embossed circle painted with watercolor, using a different color on each leaf.
Marvel Grégoire
2018, Edition of 10
Grégoire followed up her 2016 book, How Many? with this book, dedicated to the children of Parkland, Florida. This book consists of four leaves of text and seventeen illustrated leaves, one for each victim of the Stoneman Douglas High School shooting which occurred on February 14, 2018 in Parkland, Florida, killing 14 students and three staff members. Each illustration consists of a single 16 mm embossed circle painted with watercolor, using a different color on each leaf. Printed on handmade paper.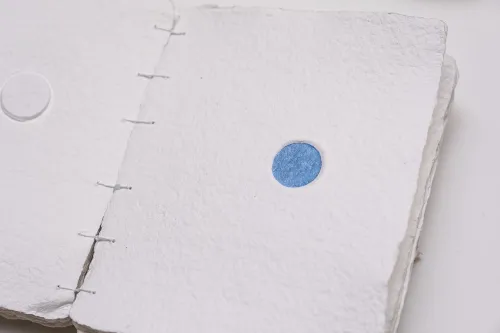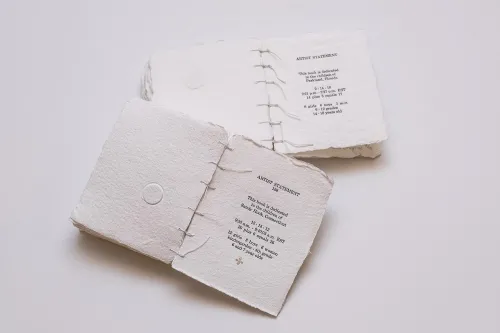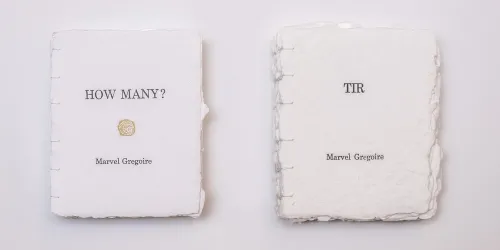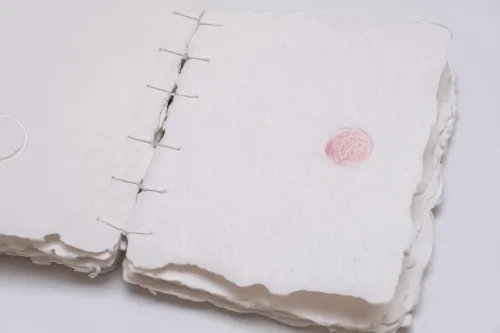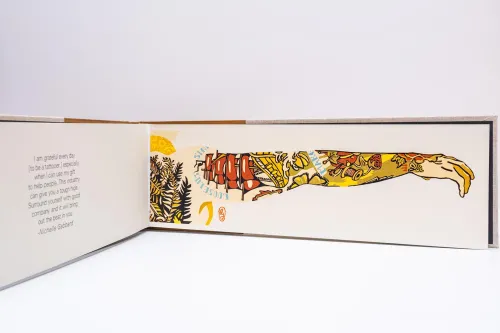 Amoreena Tarvas
w!gglysqu!d press, 2014, Edition of 7
Tarvas, a tattoo artist, combines tattooing and traditional book-making techniques to convey the dual nature of tattoos as both a public form of expression and an inherently intimate art. She began her process by photographing and interviewing various tattoo collectors about the role that body art plays in their lives—ultimately discovering an underlying theme of connectivity—to family, faith, and personal journeys. Illustrated with reductive linocut and photo-polymer plate images and letterpress printed, hand-set type. The cover is bound with leather and tattooed. Each edition featuring a unique cover tattoo. The book opens up to nearly 50 inches wide.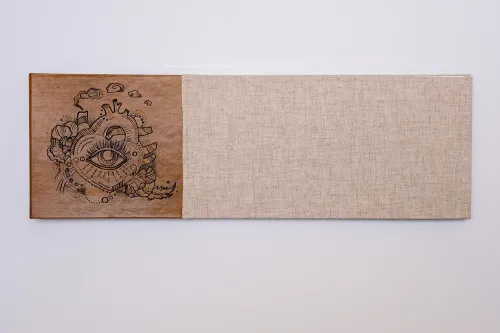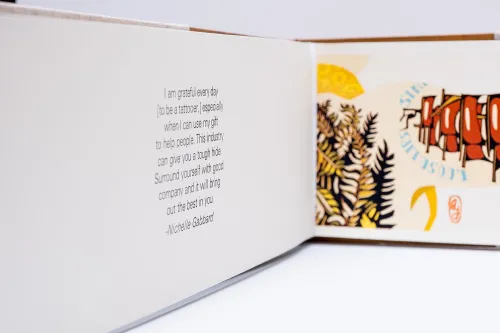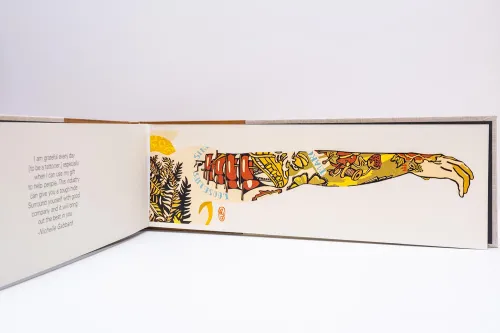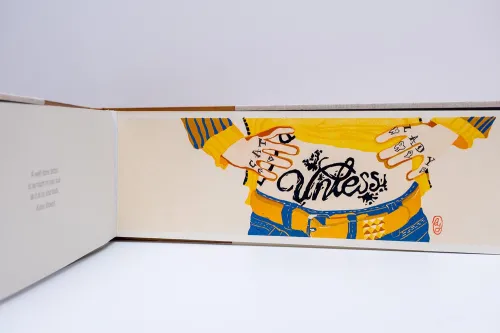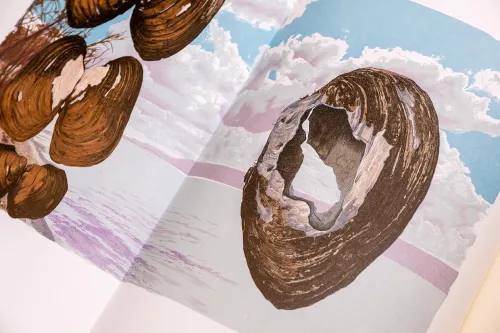 Gaylord Schanilec
Midnight Paper Sales, 2015, Edition of 100
Schanilec is a master fine printer and wood engraver whose work often focuses on our natural surroundings and history of our lands. In this work he explores Minnesota and Wisconsin's Lake Pepin through commentary of the passage through Lac Des Pleurs, or Lake of Tears [Lake Pepin] by various explorers including Louis Hennepin, Henry Schoolcraft, Zebulon Montgomery Pike, and others. The images are wood engravings of specimens and scenes collected and observed by Schanilec at the lake—American White Pelicans, White Bass, Lake Pepin Mucket, Threehorn Wartyback, and more. The book is quarter bound in leather with hand-marbled paper by Jemma Lewis, made to mimic the wet stones along the shores of the lake. The book was a seven-year endeavor.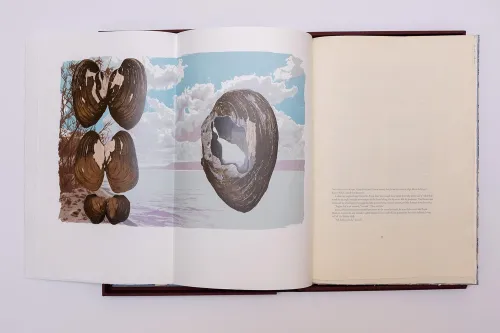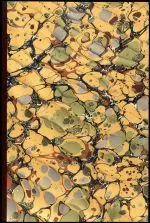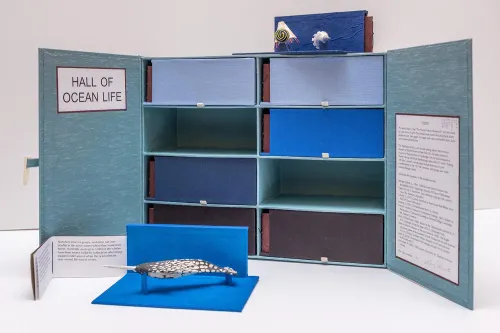 Cathy Durso
2019, Edition of 9
A miniature Hall of Ocean Life, this artist's book contains eight drawers, which, when pulled out of the box that houses them, reveal dioramas of eight different ocean-faring animals, each with its own booklet describing the animal and its peculiar habits and history—from the small and savage nudibranch to the lonesome, lurking deep-sea anglerfish. The blue colors darken, and the animal characteristics change as the drawers get deeper under water. The animals were constructed using book board, aluminum wire, lokta paper, rice paper, and cotton embroidery thread. Some have linoleum-block printed skins.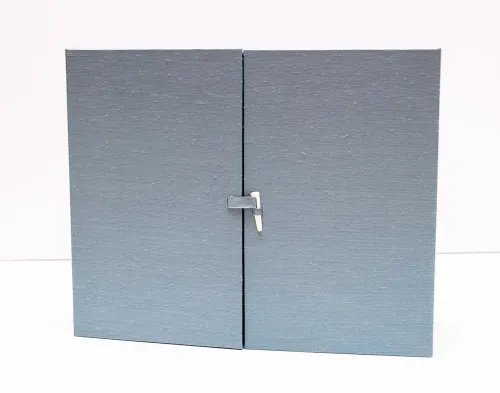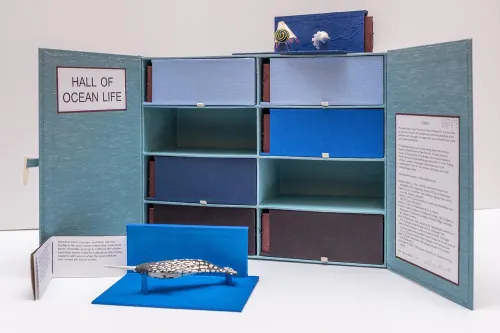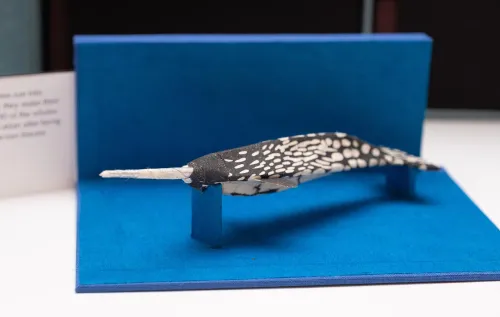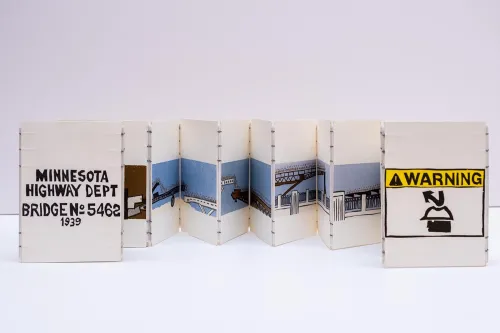 Richard Stephens
Supersessionpress, 2016, Edition of 23
A WPA classic razed. The book celebrates the last hurrah for Bridge No. 5462 near the intersection of Highways 100 and 7 in St. Louis Park. The reductive linocuts illustrate the movement of crushed concrete on conveyors over highway 100 while the reverse side includes company and machinery logos. Reduction lino cut is a method of block printing in which each color is printed from the same block. One color is printed for the entire edition, then the same block is carved for the next layer, which is then printed for the entire edition, and so on. This results in a finite number of prints, where no more can be made.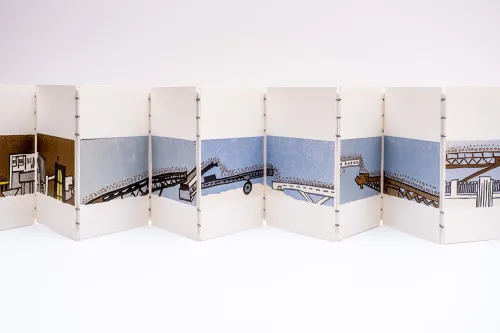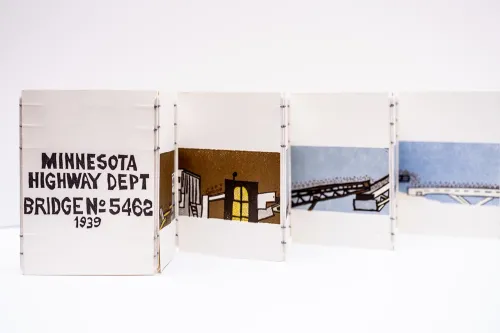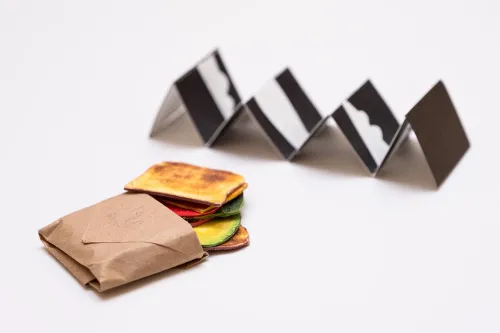 Kinoshita makes some of the smallest artists' books in the Hennepin County Library collection. Consensus among collectors is that the purpose of miniature books is twofold—they are portable and they satisfy our curiosity for extremes. There is no set dimension that defines miniature books, but most collectors use a maximum of 3 inches in height, width, and thickness as a general rule. The Special Collections include over one hundred miniature books, including many recent artists' books, ranging in size from approximately 19mm to 3 inches in height.
Karen C. Kinoshita
2018
The "large sandwich" measures less than 1.5 inches square and consists of images of sandwich fixings such as bread, cheese, avocado, tomato and bacon, strung together with a fine thread, wrapped in a brown paper bag.
Karen C. Kinoshita
2016, Edition of 24
A miniature artist's book with hidden pages and hand drawn surprises. Gently open the pages like a codex book to find the hidden cheese. Or keep it a secret by pulling the end pages to form an accordion book, hiding the surprise for another reader.