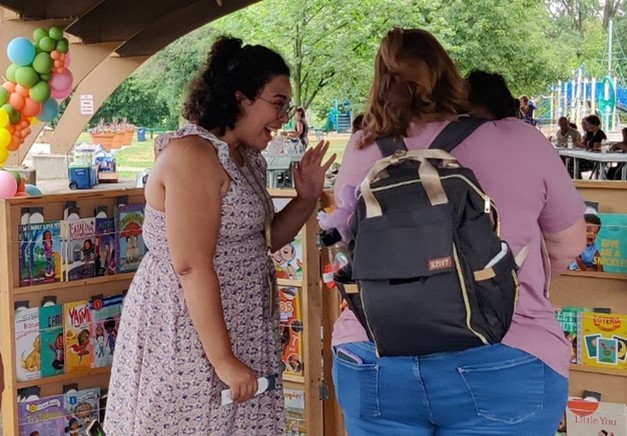 Sharing stories brings us together, just ask a librarian, or the organizers of the Foster Care Picnic at Richfield's Veterans Park. Connecting with one another through sharing stories is the goal of the annual event. For foster care families in Hennepin County, it's a day of appreciation and togetherness … a chance to say, "thank you" and "same here!" At the picnic, kids in foster care meet and play. Parents relay challenges and joys. And nearly everyone indulges in sweet treats!
Much to the delight of the organizers, picnickers made some genuine connections. For instance, two young girls, each in foster care, clicked instantly, running off hand in hand to play all afternoon. Since the event, their families gather regularly so the girls can continue to spend time together.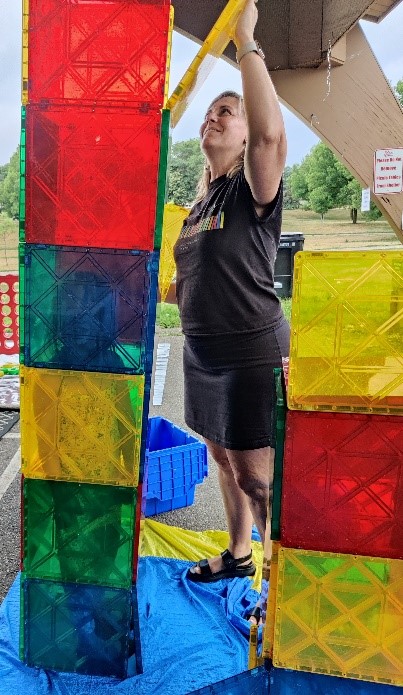 It never hurts to share a bit of fun, either. At the picnic, little ones toured inside fire engines. They built block skyscrapers taller than themselves. They challenged each other to giant checkers. And they had the opportunity to select free books.
Even the teenagers, try as they might to hide their enthusiasm, smiled as they claimed their favorite eye-catching cover. One small boy selected a story and skipped over to the two therapy dogs in attendance. "I'm going to read this to the dog! Oh, I can't read it yet," he registered. "I'm going to show him the pictures!"
We're here to build up our communities. When we have stronger relationships, we have stronger people, and stronger communities.
Lisa Trinh, Hennepin County Foster Care & Adoption
This year, Friends has contributed $65,000 to purchase nearly 14,000 books for library staff to give away in the community. Does giving away books devalue the library? The simple answer is no! One book will never satisfy a hungry mind. In fact, a book will only inspire someone to seek more. What giveaway books will do is create a culture of literacy and access to books at home. Books also provide foster children something special for their very own.
The picnickers were thrilled with the selection of free books. "Wow," they told library staff. "You have a lot represented here!" Books featuring diverse characters and formats were available in multiple languages. Fantastical books that provide an escape. Books that teach self-worth. Books with characters who conquer obstacles and prove no one is destined to repeat patterns. These are the books that, when planted in our community, sprout new ideas and change lives.
This picnic is the latest collaboration between our library and other Hennepin County departments on a mission to meet the community where they are. Lisa Trinh, of Hennepin County Foster Care & Adoption, shared, "We're here to build up our communities. When we have stronger relationships, we have stronger people, and stronger communities." From reading stories to sharing them, we're grateful for our library's role in building and supporting strong communities across Hennepin County.