Before I came here, I never knew what my passion was. Since coming here, I learned sewing is my passion, and I want to keep learning and start my own clothing-line business.
~Tierni, TTS member
Teen Tech Squad Stats
87% of participants said they are interested in doing more STEAM activities.
86% said they feel confident they can succeed at STEAM activities like these in the future.
81% would recommend TTS workshops to others.
93% said they had fun.
Teen Tech Squad's Impact
Teen Tech Squad (TTS) is a STEM-focused program that employs and trains 34 teens each year who design and lead free, fun, hands-on workshops that bring hundreds of diverse youth into local libraries.
The program offers workforce opportunities rarely available to teens. For Teen Leaders, TTS is a powerful employment experience, with wages of $20/hour, mentoring opportunities, and leadership training. Leaders are given responsibilities for program design, curriculum development, safety planning, and workshop facilitation that few teenagers—or young adults—ever get to experience, building vital 21st century skills as well as "hard" tech skills in fields like coding and robotics.
Image

Each year, up to 34 high school students are employed that receive invaluable mentoring and leadership training.
Our objectives for participants in TTS workshops are to build
All TTS activities invite creative expression and exploration using digital media and open-source technology tools, including music and video production, digital photography, graphic design, computer programming, robotics, circuitry, and more.
TTS Brings Teens Together During COVID
In ordinary circumstances, TTS offers intensive training and mentorship to 34 teens who lead hands-on workshops for 1,000 students. Twice monthly, 7 Teen Tech Squads present 2-hour workshops with hands-on activities that bring STEM concepts to life, changing young peoples' ideas about science and technology and inspiring them to envision themselves in ambitious STEM careers.
During the pandemic, TTS staff and Teen Leaders spent time adapting the programming to meet the challenges created by COVID-19. These Leaders are using the insights gained from the past year to offer a strong series of programs designed to meet the unique needs and interests of their communities.
At the beginning of this job, I was very timid. I was more of a team member than a team leader. COVID pushed me to come out of my comfort zone. This was always something I struggled with, but with this job, I learned to speak and act confidently.
Graduating Leader
What are the Teen Tech Squads planning for 2021?
Brookdale and Brooklyn Park Squads
These Squads will be building a Virtual Community Art Gallery, connecting with youth in local schools and publishing their work to a community website. They will also be distributing DIY Plushie Kits in response to feedback that youth are craving creative outlets, and coding activities that will allow young people to actively create computer programs.
Hosmer Squad
The Hosmer Squad will use collaborative Minecraft games to help youth connect with their peers. By designing and hosting Minecraft engineering and coding challenges, the Hosmer squad gives youth with similar interests a chance to interact and form social bonds to overcome the isolation of COVID.
Cedar Riverside Squad
This Squad is designing outdoor programs inspired by some of their most popular workshops – like elephant toothpaste and bottle rockets – with safety plans and protocols that will allow youth participants to maintain social distance while participating. They are also learning new art techniques for workshops to help youth in their predominantly East African neighborhood create posters about their real-life Black heroes.
North Regional Squad
This team is focused on preparing their space in the remodeled North Regional Library and reconnecting with youth as the library reopens to more in-person access. One member has stayed on past the end of his term to serve in a transitional role to rebuild connections with youth and help newly hired squad leaders get off to a successful start.
Eden Prairie Squad
The Eden Prairie Squad is creating hybrid workshops with virtual instruction for hands-on activity kits distributed to participants in advance. They are offering workshops every two weeks with a new theme each month, like Ecological Sustainability, Creative Arts, and Engineering and Building. Topics also include Bioplastics and Their Different Uses, Microgreens and Salad Recipes, Mosaic Art Design, Jewelry Arts & Crafts, Bridge Engineering, and Cardboard Marble Mazes.
Image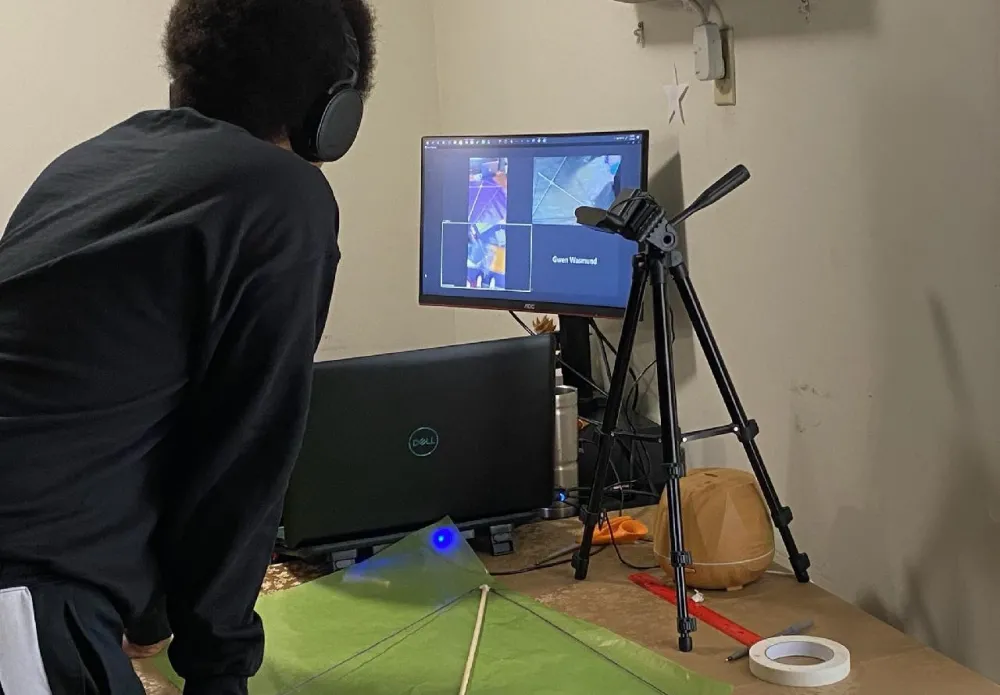 Teens have been finding innovative ways to continue to offer education, inspiration, and opportunity for youth.
The Future of TTS Depends on Generous Support of Friends Like You
With the support of donors, Friends of the Hennepin County Library is contributing $150,000 to Teen Tech Squad in 2021, which will allow the continued development of future leaders in STEAM across the county. The generous support of library Friends also offers our adult mentors and teen leaders the opportunity to pivot quickly to meet the challenges of today when the communities served by our eight Teen Tech Squads across Hennepin County are hit the most by hardship. Despite the challenges that teams are facing during this time of physical distancing, these determined teens are not looking to slow down anytime soon.
Discover more stories from your library
Be informed and inspired!